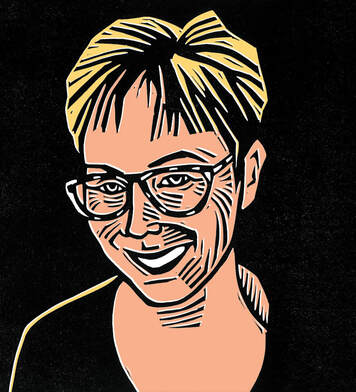 I graduated from the Ontario College of Art (now OCADU) and plunged into the world of retail advertising. After ten years I said, "Enough already! I want to do something fun and creative!" I returned to my kindergarten roots as a potato carver and took up linoleum cutting with a vengeance. Many years later, I have carved enough linoleum to tile most of North America and I continue to create whimsical lino-cut illustrations for adult and children's publishers, magazines, advertising and more.
My scanned linoleum prints are digitally colored, the perfect marriage between traditional and digital technologies. I am an award-winning illustrator who loves translating words into pictures and am writing and illustrating my own children's stories, at present works-in-progress. For relaxation I paint oil portraits on canvas and ipad. I was thrilled to be included in the Creative Boom magazine article, "20 exciting illustrators to follow in 2020!"
Click here to view a video interview with author and film-maker, Kate Jaimet, demonstrating my lino-cut printmaking technique.
Client List:
American Bar Association
Andrews McMeel Accord
Ariel Publishing
Barnes and Noble
Cal Poly
Cricket Magazine Group
Crown Publishing
Fitzhenry & Whiteside
Gibbs Smith Education
Highlights for Children
Houghton Mifflin Harcourt
Klutz Press
MacMillan Publishing UK
Orca Book Publishers
Owl Kids
Oxford University Press
Pearson Education
Red Chair Press
Scholastic Press
Spin Master Games
The Child's World
The Ottawa Citizen
The Toronto Star
The Wall Street Journal
The Washington Times
Walmart Canada